We are proud to publish our new Company Video which will provide you with an overview of what AirEng does:
Finite element stress distribution plots are a key component used by AirEng engineers in the design process to ensure structural integrity. AirEng is very conservative with designs and uses generous service factors to give you our client confidence of a long reliable service life.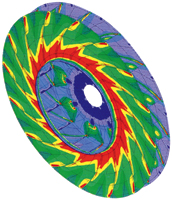 AirEng – Industrial Fans and Blowers
AirEng employs state of the art design equipment and techniques, and has some of the best qualified specialist engineers in the region. Computer aided design, modelling and stress analysis ensure consistent and reliable performance no matter how unusual your specific requirement might be. Flow testing and sound level analysis further help to guarantee that designed performance is achieved in service.
We constantly supply our clients with robust designs that offer high energy efficiency and low-noise operating characteristics. Our fans give long service life, and provide stable air flow throughout their operating range. Our products conform to Australian Standard AS2936, British Standard BS848 and US Air Movement and Control Association Inc. AMCA210 and AMCA310 performance requirements.
Designing and building fans for challenging applications is our specialty and inspires our workforce. Thousands of AirEng fans installed around the world testify to our expertise and success in this regard. Our products' continued reputation is important to us, and all our designs embody generous service factors to ensure that this is maintained. To you, our client, this means that you can be confident of a long and reliable service life, no matter whether your particular requirement is filled from our standard range or custom-designed.
Our engineering services include:
Shaker test
Fan performance testing
Model Tests
Finite element analysis
Sound level testing
Systems calculations
Specialist application work
Onsite commissioning
Onsite balancing
Vibration analysis
Preventative maintenance assessment